We love employers like Craig Freeman, director at Espresso Carwash Café on the corner of Lincoln road and Moorhouse Avenue. He runs a smooth operation and he provides a top notch service but that's not why we're full of praise for him. It's his attitude that we think is brilliant.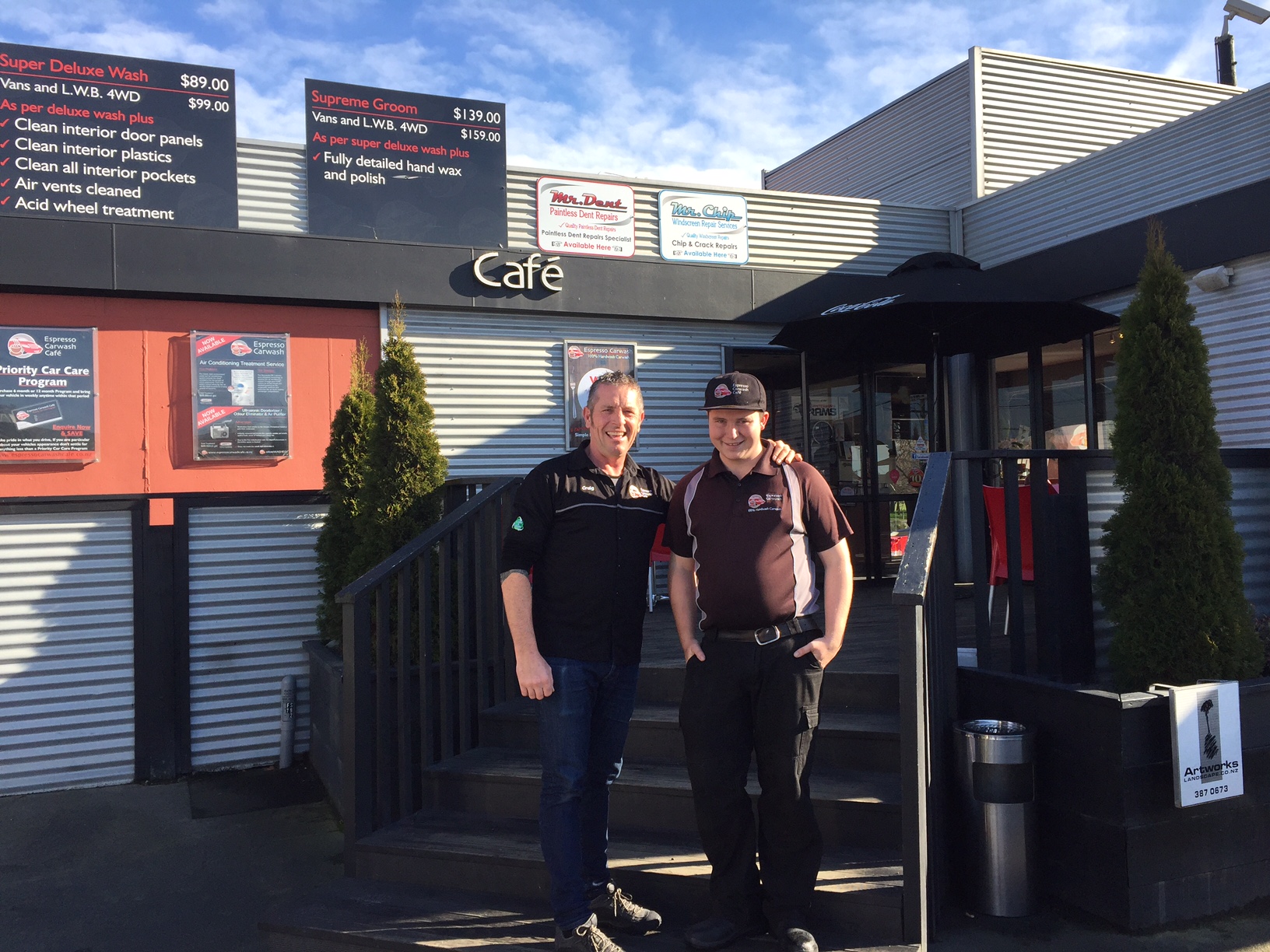 Down to earth and pragmatic, Craig is ready to give anyone a go and has an inclusive attitude towards his employees: "You know honesty and enthusiasm are the basic things I look for. If they've got that and they're ready to take on new tasks, why not give them a go". And let's be clear here, getting those vehicles sparkling isn't a job for slouches it also requires fitness and an eye for detail. He needs a strong team to make that great service at Espresso Carwash Café happen. It's a fast and efficient daily turn-around of, on average, 100 vehicles that are driven in looking a tad shabby and after the 100% hand wash vehicle valet service are driven away looking sharp.
One of those team members is Tim Tattersall a Catapult client who under Craig's guidance has become a valued employee. Right from the start Craig could see that Tim had qualities that matched his expectations of honesty, and enthusiasm for the job and, what's more, he could see Tim's potential. "Tim's got heaps of that," says Craig, "he's one of a team of good guys that help me to run a good business. You know, repeat customers often comment on our 'awesome team'".
Tim's family contacted Craig shortly after he first took him on. They wanted to be sure that Craig understood how autism affected Tim's social and workplace interactions. "I said to them, 'Hey, don't worry, you've got a great boy there, he brings happiness to the workplace'". Tim's skills and aptitude have increased. He started on 1 or 2 hours a week and now those hours have increased up to 20 sometimes 24 a week. "Tim is fully committed to the job," says Craig, "sometimes, even if the weather's bad, he turns up just because it makes him feel good to be here."
Craig mentions that some guys he interviews just don't seem to have any enthusiasm while others just don't prove to be reliable: Tim is super reliable, and loyal, wearing the company shirt and hat with pride. Craig understands that everybody has their own set of challenges but admits that he hasn't always been prepared to be so tolerant or inclusive in his attitude towards others. "I was brought up on a farm, I'm a country boy, my Dad was a pretty hard taskmaster so I developed a fairly tough attitude. It [understanding] has sort of grown since having my own kids – I know how I'd want them to be treated in a workplace".
Being understanding of individual challenges, working around a challenge to utilise strengths, generally getting to know your employees is something that Craig thinks really does make for a much more positive and successful work environment for everybody.