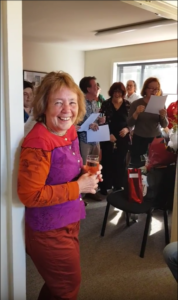 Ali Brown recently retired from her role as Catapult's CEO. We held a farewell party for her at Catapult and were joined by colleagues, friends and Catapult supporters, many of whom had Ali-focused yarns to share.  Kev Blogg, Catapult's founder and patron, was amongst them and commented in his toast to Ali that employing her had proven to be one of the best things he'd done for Catapult.
Ali will keep an involvement with Catapult as a business consultant so we're hoping we'll have the chance to catch up with her now and again. We all wish her the very best in the exciting years ahead of her.
So as we fare welled Ali we also welcomed Leanne McTear who has joined us as our new CEO and we look forward to working with her to build a strong future for Catapult.