Kevin Blogg MNZM | Founder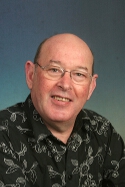 Kevin was an extraordinary man in that not only did he have a vision that people with a disability or health issue have the opportunity to participate in paid employment but that he put the vision into practice. In 2003 he founded Catapult Employment Services Trust to do just that  and  since then Catapult has assisted hundreds of Cantabrians towards a better life through having paid employment.
Kev led by example, his huge empathy for a diverse range of people showing through in his approach to this work. He shared many stories of the successes he'd achieved over the years with clients. He was also a great mentor, guide and friend to staff. He was justifiably proud of Catapult Employment Services and the work that it does and when he retired as director 2014 he continued to work part time as well as continuing to mentor staff.
When he fully retired in 2017, Kev accepted the position of Patron for Catapult and in this role he continued supporting Catapult, offering advice and guidance.
Kev was a true friend and mentor to our staff. His door was always open to everyone even if it was just for some time out listening to his blues music. When Kev's health started to deteriorate, and he moved to town, he would turn up on his scooter to pop in and have a chat and tell us about his latest adventures and mishaps.
We are sure going to miss those catch ups and phone calls and your wise advice Kev.  Rest in peace Kev, your legacy lives on and the work continues.
Read more about Kevin's work here.
---